On this page: Project 1, 2 and 3 + Exercises
Project 1
100 Photos
For this project your task is to make 100 photographs in 30 minutes. You can choose to shoot in any environment you like, inside or outside. You can shoot in your own home or in a public space. But do it now! Working quickly and productively can help turn off the 'inner critic'.
Vary the subject and shoot a variety of close and wide shots. Make conscious use of the frame to create compositions that balance shapes and tones. Use wide-angle and telephoto focal lengths, and move around the subjects. Think in terms of visual effect and take as many different framings, angles (high, low, birdseye, ant's perspective, etc.) and viewpoints as you can.
Time yourself: you have 30 minutes to make 100 photos! Don't think too much. This isn't about quality, it's about quantity. Stop after 30 minutes.
I did as the brief instructed…I quickly chose a location; our bathroom.
I knew that it would be a difficult location. I was ok with this as I knew it would challenge me. I liked that there were no 'nice' shots on a plate for me.
The bathroom had no people in. There was no drama in there for me to capture…quite unusual for our family… This would add to the challenge. It was also clean and tidy.
I immediately knew that some of the photo's would be abstract; this was a good thing. I like abstract photography. I could see there were some good lines and shapes to photograph.
I decided that I wouldn't use a flash. Bathrooms are generally quite dark, however due to the time of the day and the location of the sun, plus the bathroom being white, it wasn't too bad. I set the ISO to 800 to give me a little help.
I wanted to use this exercise to play with aperture and exposure. Specifically having a higher aperture to minimise the depth of field. This was due to taking a lot of close up shots. I knew that this would help me make some of the shots more interesting.
I did have the final assignment in the back of my head as well…. Its pretty gross but everyone leaves traces in the bathroom…hair, skin, excrement… bathrooms are also full of beauty products; traces of age, of former beauty…
---
Project 2

Shadows
'I am forever chasing light. Light turns the ordinary into the magical'. Trent Parke.
For our next project we were asked to explore light and shadows.
This project involves hunting for strong shadows and highlights in either an outdoor environment lit by strong sunlight. On a clear day, the hours after sunrise and before sunset when the sun is low on the horizon are useful for this kind of light. If it's been raining recently, you'll also find more reflections and highlights. Try to make pictures with feeling.
It recommended having a look at the photographer Trent Parke. See below for my initial thoughts.

I like the fact that he crosses many different genres… it feels like his work could have been photographed by lots of different photographers. There are images that look documentary, abstract and even mystical.
The first thing that stands out for me is the stark contrast. You cannot get away from it. It hits you.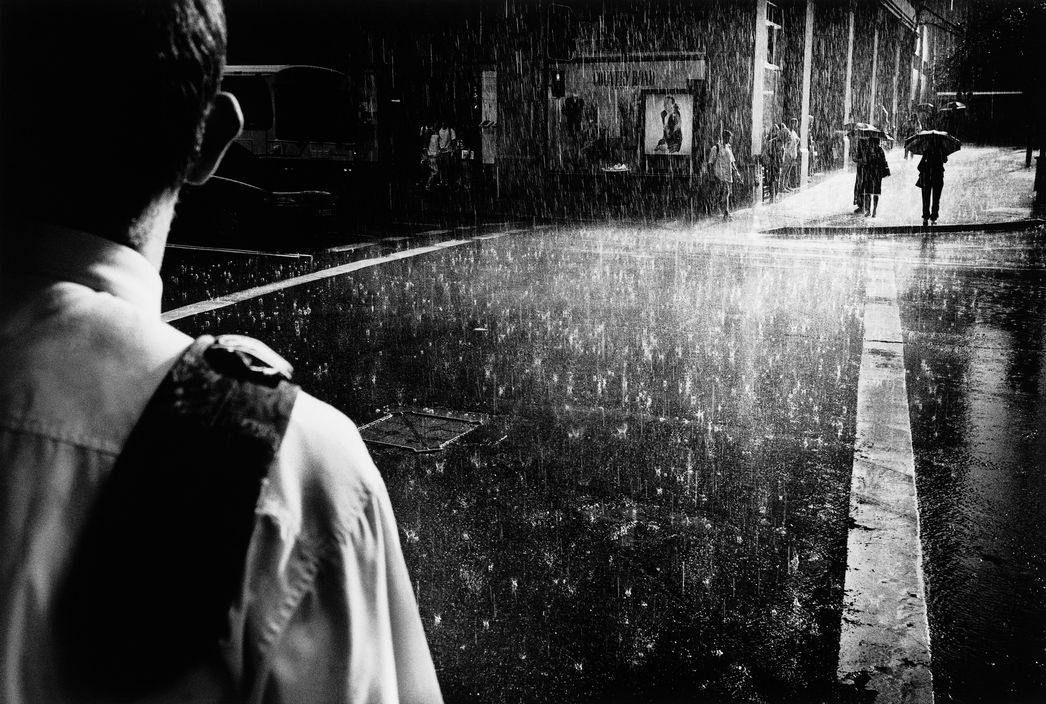 His work relies on light to give shadows, reflections, contrast and in turn; drama
Listening to him in interviews he has a deep passion for creating drama through his photographs. He wants to photograph 'life' as he see's it, in that moment. Light adds to the drama.
Its also interesting to hear him talk about how his photographs have 'him' in them. Where he comes from, what he loves, what inspires him etc etc run through all his work.
For the first set of photo's I chose a Sunday morning when the sun was out. I headed into the town centre and an industrial estate close to my house, around 7.30 am. I didn't have any plans apart from photographing light/shadows…regardless of where they showed themselves.
I also used this project as an opportunity to experiment using black and white and contrast/brightness in Photoshop.
I like this picture because the shadow kind of looks like a birds footprint.
Sculpture outside the Courthouse. Not as much contrast as I would have liked.
John.
Three wise men. They are actually 3 trees creating the shadows. But they were 3 very wise trees.
I like this picture for all the lines created by the scaffold and the light.
The next two are the same picture. I think they illustrate that black and white isn't always the answer…something I admit I had in my head on embarking on this shoot. I explore this in a few more photo's later on.
The next set of pictures I took when I got home on the same morning. Once again I had no specific idea of what I wanted to take pictures of. I just searched where there was sunlight coming into the house.
Dog cage. The sun created shadows here, but also brought out a brilliant colour from the tiles.
Once again I have shown two versions of the same photo. The reds and the warmth created by the sun on the wood definitely make the colour photo my favourite.
This photo really showed me how such a 'boring' subject can be brought to life with light, so that it becomes much more interesting.
This sunlight was coming through our pane of glass above the front door and hitting the sideboard. I love the warmth the sunshine gives the pine. There is almost a fiery feel to it.
I asked my daughter to sit in the light coming through. As you can see she didn't like the strong light hitting her face. I like this as it adds a little drama to the photo.
If I only saw the photo's in black and white I would have been relatively happy with them. However seeing the colour photo's I think I prefer these; the warm glow, the fire like shadows and the atmosphere.
*The next collection of photo's were taken on my Samsung smart phone.
I went to watch The Arctic Monkey's at the Manchester Arena last week. The security was very high so I didn't even attempt to take my SLR camera in.
I've added photo's as a slideshow as an experiment using different tools on WordPress.
I'm really happy with how I was able to use light to get some non traditional gig photos. Obviously the lighting plays a major part in most music gigs. The Arctic Monkey's often used light for dramatic effect.
I was fascinated by the roof of the arena, and how it was being lit up. I hope this has been captured.
My last photo's for this project are of my daughter. I wanted to have a play around with artificial light… it was really hard without a tripod! I know, I need to buy a new one. Obviously with the exposure time extended I had to hope for stillness..most were blurred, however I did manage to capture a few.
As you can see in the second picture I was playing around with different effects in photoshop.
Shadows Part II
So I guess the beauty of this being a 'log' and the course having no strict timescales is that I don't have to let things go until I'm ready…
Two things happened over the past 2 weeks which meant that I continued to explore light/shadows; I started reading and watching a lot of an English photographer called Sean Tucker http://www.seantucker.photographer/street. He has quite a few tutorial videos online, but more importantly he is a photographer who loves taking photos of light and shade…very similar to Trent Parke in many ways…in my opinion maybe not quite as dramatic, maybe a bit more aesthetic..
Sean Tucker. http://www.seantucker.photographer/street
Sean Tucker. http://www.seantucker.photographer/street
The second thing that happened is that we have had some amazing sunny days down in Devon. The sky has been so blue… I needed to explore…
Notes on Street Photography… I cant deny that bringing out my camera in the town centre induces some anxieties. Its not a comfortable feeling. I'm determined to get comfortable with it…. I know this will only happen the more I do it. So I decided to use my phone…I wanted to concentrate on exploring light, not worrying about upsetting people!
Exeter

26.9.18
I knew after this day that I'm drawn to lines, shapes and patterns. Especially ones created by light.
However I think that people add an additional dialogue to the pictures. It feels as though I have two projects in one in the above photos. I would like to explore them individually over time.
I decided straight away to not be afraid of large areas of shadow/black… which feels a bit weird for me…not sure why?
I found a photographer called Mark Fearnley http://www.markfearnley.co.uk His work really resonated with me…and mirrored the type of photography that really interested me when I was out and about…shadows and lines!
Bristol

29.9.18
I had a couple of hours in Bristol on a Saturday morning. I had a hangover so my anxieties were heightened…As you can see I avoided people on this day! Proves the importance of planning. However the picture below is one of my favourites over the past week. The guy is actually walking away, however it's not that clear and it kind of looks like he's lingering…adding a little bit of drama. I love the Bono reference as well. U2 were the first band I got totally obsessed with as a teenager, so he/they will always have a place in my heart.
Picture analysis
Red Bridge, Okawa
Soft light landscapes
I found this exercise frustrating due to every time I went out on an overcast day the sun came out!
I do think the frustrations helped me learn and understand more about exposure times in different weather conditions and how light has a MASSIVE effect on the photo's you take. I appreciate that's a obvious comment…but this has really highlighted it for me.
Due to it not being a totally overcast day I was unable to increase exposure times beyond 1/40 secs, meaning I wasn't able to capture any 'movement' in the photo.
Working on an aperture of f22 made it harder to decrease shutter speed. Maybe I should have increased my ISO to help me out a bit.
The first photo below had more contrast. I achieved this by dragging the middle slider on the levels chart to the right. It looks 'flat' to me. There is no dramatic contrast that you get with shadows from bright sunshine. In fact there's no shadows at all…but im guessing this was one of the points of the exercise.
The photo still looks 'real'.
I was interested in how sliding the levels to the left, therefore over exposing, changed the feel of the next two photos;
I think that by editing the photo so that it is slightly overexposed gave them a 50's feel, especially the black and white picture. Obviously this is helped by the 50's architecture, but even so, I was pleasantly surprised.
Project 3

Stillness and movement
exercise 1.10 Shutter Speed
exercise 1.11 Capturing stillness and movement
As instructed I needed to explore movement and stillness. It stated very clearly to avoid clichés.
We were asked to explore the work of Toshio Shibata. We had already explored his famous Red Bridge photograph. We were asked to look at how he uses lines, angles, shapes and forms, and how we humans interact with our environment.
So my ramblings above took me down a few different paths, a few cul-de-sacs. However I like the idea of Chaos. Something more extreme, more dramatic. I'm picking up through my learning so far the importance of creating drama within photography and the ability to make the image more than 'just an image'.
I thought about people, how we live our lives and how life has become chaotic for most people. This can be magnified if you happen to live in a big city. Every idea I thought of was a little cliché in my mind; traffic, rush hour etc. I also don't live in a big city so….
I stumbled, via my ramblings, to start thinking about trains. I remembered what its like to stand near a train that's going past you at full speed; its loud, scary and pretty brutal. My brain always takes me to the damage that could be done…to humans and to anything else it hit. Its a massive heavy man made piece of metal travelling at 100 miles per hour… here was my chaos/drama.
I then started to think about Toshio Shibata's work and imagined how photographing the tracks from above could start to look abstract and uniformed. The initial issue I had was trying to come up with how I could position the images against 'stillness'. I remembered that I often go a bike ride that follows a train track which runs parallel with the Exe Estuary.
My first thoughts were to take photo's from a bridge, looking down at the train travelling past at full speed. I wanted to capture the force/movement of the train and try and capture the estuary.
* Exposure alert! I had an absolute nightmare trying to get a long exposure without over exposing the photo. I just couldn't get it right. It was an overcast day, but the cloud was low and it was still fairly light, I also figured that by being by the estuary/sea would have created extra light with the sun bouncing off the water?
I have since done further research and its a very common problem. There are Neutral Density Filters which can really help with this issue. I look forward to experimenting with them.
This image below is the only one I'm kind of happy with from this position. I like it because of the colours created by the train. There's a little bit of drama, and I think I've completed the brief. The composition is ok, but you can see its very over exposed. I played with it in photoshop to try and save it, but it didn't really work.
*Note; I've found it a lot easier to 'save' images that are slightly under exposed and over exposed
The next series of photo's I have called Blurred Trains.
I was walking back to the car and there was a whole in the fence next to the tracks. On the other side of the tracks was the estuary, so I thought I'd take an photo from this position.
I was able to capture the movement of the train and the stillness of the estuary which I was really pleased with.
I like the way the train is blurred giving it an abstract feel, almost as if it could be a painting. I like the way the lines from the blurred train frame the background.
I feel there are references to the work of Toshio Shibata in these photos; the clean lines of the metal, the rocks in series 2, the blur of the train (instead of the water), the flatness and graininess of the backdrop.
On a technical level it would be great to achieve much greater clarity of the boats on the water. The water looks grainy and slightly out of focus. I could lie and say this is what I wanted to help create a sense of gloom and uncertainty…but.
I have included my favourite photo from each series and I have also added a slideshow of each series to give the series a sense of movement.
Blurred Trains Series 1
Blurred Trains Series 2
Blurred Train Series 3